Live one of the greatest experiences, and explore the Caribbean Sea in the Riviera Maya, full of colorful fishes and corals. We count with two daily local dives: 9:00 am and 10:30 am in small groups and count with a variety of dive sites on the ocean side of your hotel.
If you are an experienced diver, look into our special packages.
VERY IMPORTANT avoid unnecessary expenses in transportation. We depart from the hotel's beach area.
WE SPEAK WATER LANGUAGE. Choosing the best day for you is our specialty.
ASK US ABOUT VISIBILITY, DEPTH AND CURRENT.
$70 USD  1 tank, reef tax not included.
$130 USD 2 tanks, reef tax not included.
*$12 USD extra reef tax, a one-time fee not included
Cancellations received 1 day before the scheduled tour will cause a 50% cancellation fee. Cancellations received on the same day of the excursion will be considered non-refundable. Cancellations due to extreme weather conditions or due to medical issues (proof of medical certificate) will cause no cancellation fee.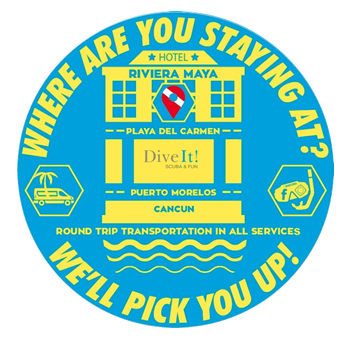 WHERE ARE YOU STAYING AT?
WE'LL PICK YOU UP!
FROM CANCUN, PUERTO MORELOS, PLAYA DEL CARMEN AND TULUM CITY