Scuba Diver Certification
You don't have enough time to get fully certified? Ask for the scuba diver program.
Take the plunge and start with your diving education. The scuba diver certification will qualify you to dive as a certified diver to a maximum depth of 40 ft (12 m), always under the supervision of a professional diver. You will need one day and a half to complete.
Requisites: Minimum age of 10 years. Restrictions may apply.
Includes
Manual

1 pool session

2 tanks in Open Water
$310 USD Reef tax not included.
*$12 USD extra reef tax, a one-time fee not included
Cancellations received 1 day before the scheduled tour will cause a 50% cancellation fee. Cancellations received on the same day of the excursion will be considered non-refundable. Cancellations due to extreme weather conditions or due to medical issues (proof of medical certificate) will cause no cancellation fee.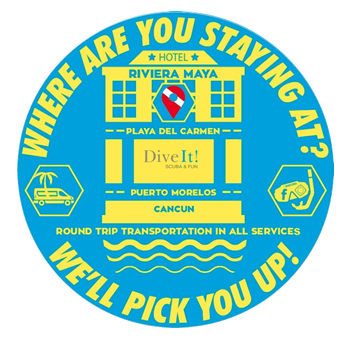 WHERE ARE YOU STAYING AT?
WE'LL PICK YOU UP!
FROM CANCUN, PUERTO MORELOS, PLAYA DEL CARMEN AND TULUM CITY