Prepare yourself to discover the beautiful and colorful world that lies beneath the surface of the water. This 1h snorkel experience will take you to a massive amount of marine life and corals in a protected national park. If you are new to Snorkeling we will teach you all you need to know and snorkel right beside you. If you're an experienced snorkeler we will make sure you see the beauty that the reef has to offer. Help us to conserve the marine life, it is forbidden to use any kind of sunblock.
Minimum age: 5 years. Restrictions may apply.
All equipment included for the activity, twice a day, depending of the weather.
We provide an English-speaking snorkeling guide, only small groups from the same resort, 100% guided by us, prior reservation.
PRICE:
Adults. $48 USD per person Reef tax not included.
Kids. 38 USD per person Reef tax not included.
*$8 USD extra reef tax, a one-time fee not included
Cancellations received 1 day before the scheduled tour will cause a 50% cancellation fee. Cancellations received on the same day of the excursion will be considered non-refundable. Cancellations due to extreme weather conditions or due to medical issues (proof of medical certificate) will cause no cancellation fee.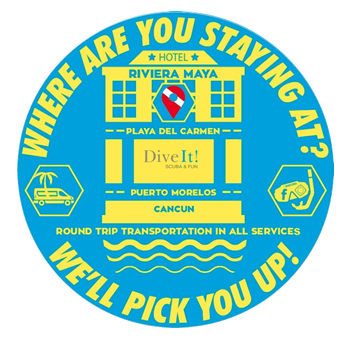 WHERE ARE YOU STAYING AT?
WE'LL PICK YOU UP!
FROM CANCUN, PUERTO MORELOS, PLAYA DEL CARMEN AND TULUM CITY