FOR BEGINNERS THAT WANT TO EXPERIENCE OUR WATER LIFESTYLE
DISCOVERY SCUBA DIVING (DSD), this is how your diving career starts.
With our (DSD) PROGRAM you will immerse yourself in the underwater world. You will see many colorful corals and fishes in their natural habitat. 
You will start the program in the pool, and next you will take a dive at the Open Water.
For this immersion program, you don't go deeper than 30 to 36 ft (10-12 m)
Includes
Theoretical information

Basic pool Skills

Full equipment

One or 2 tanks Open Water dive in the barrier reef with our specialized instructors.
Take it to the next level and ask your instructor for the PADI certification!
PRICE:
$130 USD  1 tank, reef tax not included.
$185 USD  2 tanks, reef tax not included.
*$12 USD extra reef tax, a one-time fee not included
Cancellations received 1 day before the scheduled tour will cause a 50% cancellation fee. Cancellations received on the same day of the excursion will be considered non-refundable. Cancellations due to extreme weather conditions or due to medical issues (proof of medical certificate) will cause no cancellation fee.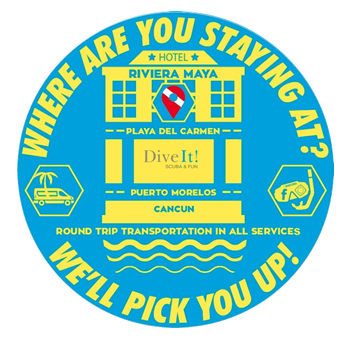 WHERE ARE YOU STAYING AT?
WE'LL PICK YOU UP!
FROM CANCUN, PUERTO MORELOS, PLAYA DEL CARMEN AND TULUM CITY