An amazing sight! One of our main attractions in Riviera Maya for experienced divers seeking to explore deeper water.
Puerto Morelos Ship Wreck (JUAN ESCUTIA) dive takes you to a C-56 Minesweeper Sunken in the 1980s with a depth of 90 ft (30 m).
Divers from other hotels, except Ocean Coral & Turquesa, will need to pay for the transportation service.
*For this experience, we need a previous reservation, only small groups, and private services.
$120 USD, 2 tanks staying at the Ocean Coral Hotel (one wreck, one local dive)
$199 USD, 2 tanks staying at other hotels, including round trip transportation (one wreck,
one local dive)
*$12 USD extra reef tax, a one-time fee not included
Cancellations received 1 day before the scheduled tour will cause a 50% cancellation fee. Cancellations received on the same day of the excursion will be considered non-refundable. Cancellations due to extreme weather conditions or due to medical issues (proof of medical certificate) will cause no cancellation fee.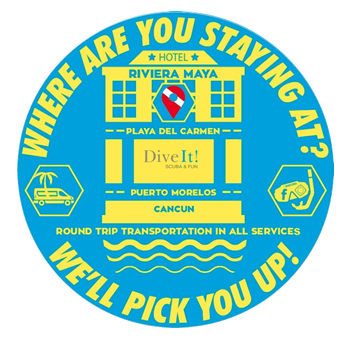 WHERE ARE YOU STAYING AT?
WE'LL PICK YOU UP!
FROM CANCUN, PUERTO MORELOS, PLAYA DEL CARMEN AND TULUM CITY