You would like to take a hobbie cat and sail away to explore the Caribbean sea around your hotel by your own? Then ask at our Dive Center, this rental is free for you. However, it requires certain technical knowledge to operate it. We offer an optional service, if you don't know how to use it. This course will last 30 minutes and has an additional cost. However, if you feel not taking it, you can ask for the guided tour, which has an extra cost and last 30 minutes (max. 3 people).
Subject to availability and operable in good weather conditions. Restrictions may apply.
$50 USD will be required as deposit and will be reimbursed upon return (if no damaged is caused). Equipment included.
Reservations will be taken at our Dive center from 9:30 am till 3:30 pm.                                                  
OPTIONAL SERVICES:
$45 USD Per person ,Sailing course.
$15 USD Per rider, minimum 2pax – maximum 3 pax + tour guide.
  * National Park fee not included
*$6 USD extra reef tax, a one-time fee not included
Cancellations received 1 day before the scheduled tour will cause a 50% cancellation fee. Cancellations received on the same day of the excursion will be considered non-refundable. Cancellations due to extreme weather conditions or due to medical issues (proof of medical certificate) will cause no cancellation fee.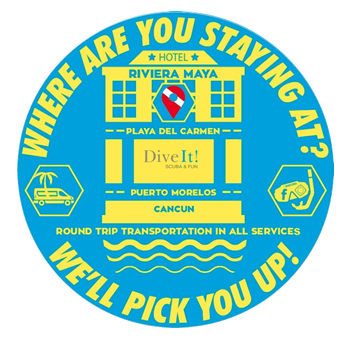 WHERE ARE YOU STAYING AT?
WE'LL PICK YOU UP!
FROM CANCUN, PUERTO MORELOS, PLAYA DEL CARMEN AND TULUM CITY